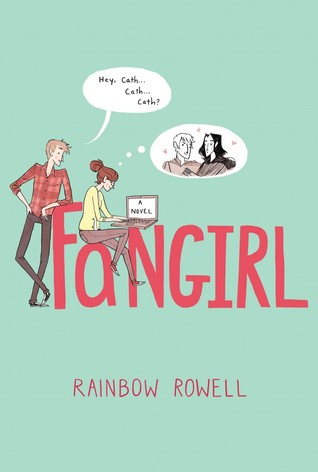 Title:
Fangirl
Author:
Rainbow Rowell
Series
: N/A
Release Date:
September 10th 2013
Pages:
445
Genres:
YA, Contemporary, Romance
Source:
Purchased
Cath is a Simon Snow fan.

Okay, the whole world is a Simon Snow fan...

But for Cath, being a fan is her life—and she's really good at it. She and her twin sister, Wren, ensconced themselves in the Simon Snow series when they were just kids; it's what got them through their mother leaving.

Reading. Rereading. Hanging out in Simon Snow forums, writing Simon Snow fan fiction, dressing up like the characters for every movie premiere.

Cath's sister has mostly grown away from fandom, but Cath can't let go. She doesn't want to.

Now that they're going to college, Wren has told Cath she doesn't want to be roommates. Cath is on her own, completely outside of her comfort zone. She's got a surly roommate with a charming, always-around boyfriend, a fiction-writing professor who thinks fan fiction is the end of the civilized world, a handsome classmate who only wants to talk about words... And she can't stop worrying about her dad, who's loving and fragile and has never really been alone.

For Cath, the question is: Can she do this?

Can she make it without Wren holding her hand? Is she ready to start living her own life? Writing her own stories?

And does she even want to move on if it means leaving Simon Snow behind?
**WARNING! CONTAINS MINOR SPOILERS**
Rainbow Rowell and this book, in particular, has been mentioned over on Booktube
a lot
, and in April I decided that I had to go out an buy this book to see what all the hype was about. I will admit that the main reason I did buy it was because of all of that hype, and when I got home and read the synopsis (yes, I didn't even do that prior to purchasing the book) I thought maybe I wouldn't enjoy it as much as I hoped, mainly because of the fanfiction aspect of the book. I am a fangirl myself, but I've never really got into the whole fanfiction world that exists, mainly due to the fact that there were some that I've heard about and they frankly scared me. Now, I never judged those who do like fanfiction, it's just something that wasn't my thing. I will say, however, that after reading this book I understand it more and I'm not so put off by it. I even went to read some after finishing the book! Rainbow Rowell...you changed me.
So, when I started reading
Fangirl
I immediately got hooked, and all of my prior reservations about the book quickly flew right out the window. I absolutely loved everything about this book. Thinking back I don't think there was any point in the book where I didn't like it. I absolutely adored Cath and I felt a kinship with her for the most part. There were certain elements to her personality that I really connected with and it was nice to read a YA Contemporary where I actually related with the character on certain levels. I really loved how her character developed throughout the course of the book. She was able to grow while at the same time remaining true to herself. By the end, she wasn't afraid of showing exactly who she was and her love for Simon Snow.
Levi. Levi. Levi. I could not have loved him any more than I did.
He was just so cute and lovable. Something that I really enjoyed was how Cath's perception of Levi changed as her relationship with him grew. At first, he was just this guy who was just a tall, lanky, and goofy boy, but as they got to know each other better she started to notice certain things about him that made him more attractive. I also really liked how the opposite kind of occurred with Nick. This didn't occur to me until later, but I realized that Rainbow Rowell did an amazing job of showcasing the notion that a person's attractiveness really ends up being on the inside. Amy Pond (any Whovian's out there?), one of my favorite characters ever, said it best:
I am really glad that Booktube introduced me to not only this book but also to Rainbow Rowell. I can't wait to read more of her novels because she is absolutely
brilliant
!