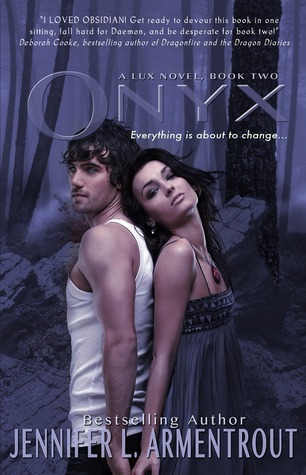 Title:
Onyx
Author:
Jennifer L. Armentrout
Series:
Lux (#2)
Release Date:
August 14, 2012
Pages:
366
Genres:
YA, Paranormal, Romance
Source:
Bought
Being connected to Daemon Black sucks…

Thanks to his alien mojo, Daemon's determined to prove what he feels for me is more than a product of our bizarro connection. So I've sworn him off, even though he's running more hot than cold these days. But we've got bigger problems.

Something worse than the Arum has come to town…

The Department of Defense are here. If they ever find out what Daemon can do and that we're linked, I'm a goner. So is he. And there's this new boy in school who's got a secret of his own. He knows what's happened to me and he can help, but to do so, I have to lie to Daemon and stay away from him. Like that's possible. Against all common sense, I'm falling for Daemon. Hard.

But then everything changes…

I've seen someone who shouldn't be alive. And I have to tell Daemon, even though I know he's never going to stop searching until he gets the truth. What happened to his brother? Who betrayed him? And what does the DOD want from them—from me?

No one is who they seem. And not everyone will sin lurvive the lies…


So If you don't follow my booktube channel than odds are you didn't see my video on my top 3 books that I read in 2015. Well Obsidian, the entry novel for this series, was on that list. This book will most likely end up on this years list because, well phenomenal is an understatement.
Daemon and Katy both had some extremely annoying traits in Obsidian and it was part of the reason why I had only rated that book a 4.5 stars rather than a 5. However, Jennifer was able to make me fall absolutely in love with both of them in this story. Daemon really let his emotions out in this book and there were times when I thought I was falling in love with this fictional character. He still maintained that badass persona that he possessed in Obsidian, but he didn't hide how he truly felt about Katy. Talk about swoon-worthy! *insert heart-eyed emoji* As for Katy, I felt like I was able to relate to her a lot more in this book and she didn't drive me up the wall. I loved how you got to enjoy more of her book blogging in this book than in the first one- and as a book blogger myself how could I not love that aspect!
Katy had to deal with quite a bit in this story, definitely more so than in Obsidian, and I enjoyed how she grew as a character and tried to fight her way out of being the damsel in distress. I can't wait to see how she continues to progress throughout the rest of the novels and how things end.
There was a lot less Dee which saddened me because I really enjoy her character, but it all made sense as you continued to read the book. There was an introduction of a new character in this book, Simon, and the plot that started to involve him really got interested and had me on the edge of my seat. There is a love triangle aspect in Onyx, but I thoroughly enjoyed that Jennifer didn't force it too much. It created that story line but it didn't overshadow the rest of the events that were happening.
There were some twists that happened in this book that I ended up figuring out, but that didn't take away from the excitement that Onyx presented. I also found myself crying at times because Jennifer decided to hit the reader with a lot of emotions in the end. All in all this book was a phenomenal chapter to this saga and I am going to be continuing it in the very near future.