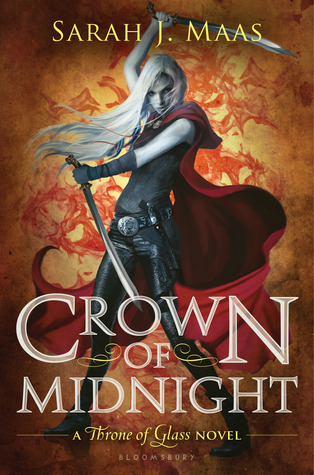 Title:
Crown of Midnight
Author:
Sarah J. Maas
Series:
Throne of Glass #2
Release Date:
August 27, 2013
Pages:
418
Genres:
YA, Fantasy
Source:
Bought
From the throne of glass rules a king with a fist of iron and a soul as black as pitch. Assassin Celaena Sardothien won a brutal contest to become his Champion. Yet Celaena is far from loyal to the crown. She hides her secret vigilantly; she knows that the man she serves is bent on evil.

Keeping up the deadly charade becomes increasingly difficult when Celaena realizes she is not the only one seeking justice. As she tries to untangle the mysteries buried deep within the glass castle, her closest relationships suffer. It seems no one is above questioning her allegiances—not the Crown Prince Dorian; not Chaol, the Captain of the Guard; not even her best friend, Nehemia, a foreign princess with a rebel heart.

Then one terrible night, the secrets they have all been keeping lead to an unspeakable tragedy. As Celaena's world shatters, she will be forced to give up the very thing most precious to her and decide once and for all where her true loyalties lie... and whom she is ultimately willing to fight for.
*MAY CONTAIN SPOILERS FROM THRONE OF GLASS*
Oh. My. Gosh!! This book absolutely blew me away! Throne of Glass was a really good book, and usually the second installment of a series can feel a bit lackluster (something I like to call The Sequel Slump). Crown of Midnight did not fall victim to that slump in the slightest. From the start I felt like Sarah J. Maas hit the ground running with the story and you find Celaena jumping right into her duties as King's Champion. With every turn of the page you learn more about what is going on, secrets that are being hidden, and there were so many twists and shocks in this book that I didn't know if my heart could take it!
If you recall from my Throne of Glass review, I was torn on who I thought the love interest should be, but hot damn! After finishing this book I am #TeamChaol. I can't wait to see how things pan out for these two in the future books.
I also don't know if I'm just not recalling it well enough from Throne of Glass, but I felt like Sarah J. Maas did a great job at including all of the pivotal characters' perspectives in this book. It's been a while since I read the first book, so I don't know if I just forgot if she did this in that book as well (forgive me if I'm wrong). I felt like the first book took the point of view of Celaena for the majority of the book, but this one showed us what Chaol, Dorian, even the king, were thinking at particular moments of the story.
AND THAT ENDING!! Oh man! I did not see that one coming!
All in all this book was a phenomenal chapter in this series and I can't wait to see how Sarah J. Maas continued it in Heir of Fire. I will definitely be picking it up in the very near future!