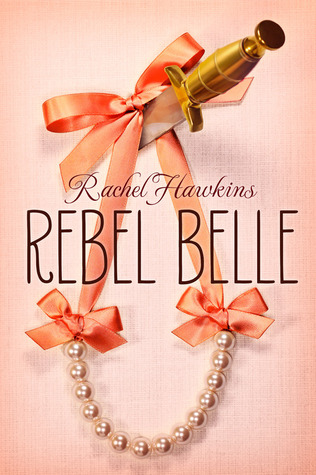 Title:
Rebel Belle
Author:
Rachel Hawkins
Series:
Rebel Belle #1
Release Date:
April 8, 2014
Pages:
345
Genres:
Young Adult, Fantasy, Romance
Source:
Purchased
Harper Price, peerless Southern belle, was born ready for a Homecoming tiara. But after a strange run-in at the dance imbues her with incredible abilities, Harper's destiny takes a turn for the seriously weird. She becomes a Paladin, one of an ancient line of guardians with agility, super strength and lethal fighting instincts.

Just when life can't get any more disastrously crazy, Harper finds out who she's charged to protect: David Stark, school reporter, subject of a mysterious prophecy and possibly Harper's least favorite person. But things get complicated when Harper starts falling for him—and discovers that David's own fate could very well be to destroy Earth.

With snappy banter, cotillion dresses, non-stop action and a touch of magic, this new young adult series from bestseller Rachel Hawkins is going to make y'all beg for more.
**CONTAINS NO SPOILERS**
This was one of the many books that I bought merely because of the hype even though I didn't know too much about it. The only thing that I could tell you before picking it up, was that it was based in the south and the main character was in high school. Going into it I thought that Harper Price was an assassin, but I soon realized that this book was way more fantasy driven then I would have ever expected.
I loved how Rachel Hawkins managed to perfectly create a fantasy element that took place in Alabama, a setting that I would have never expected to be written about in this fashion. I thoroughly enjoyed everything about this story, and even though it was highly predictable (in my opinion), I couldn't get enough. In fact, I had to rush to the bookstore the day I finished it to go and grab the sequel because I needed more.
Harper Price was a lovable heroine, and I loved how her character grew and matured as her "destiny" came to play. At the beginning of the book, Harper was extremely focused on herself, her boyfriend, extracurriculars, and being popular. Once she became a Paladin whose main priority was to protect the Oracle, everything changed.
The reason for me knocking off a star for this book was solely because of its predictability - most of the twists and turns I saw from a mile away and I didn't feel like there was much shock value for me. However, Rachel Hawkins' writing style and the story itself allowed me to be completely hooked and I cannot wait to see how this story continues in Miss Mayhem.