This month wasn't a great reading month for me, but it wasn't a horrible one either. This month I managed to finish a total of 3 books, as well as start a 4th one. Going into this month I had a goal of reading 7 books, and even though I'm bummed I didn't read all 7 I am really happy that I managed what I did.
As you may recall I mentioned that I had been in a severe reading slump, and this was the first month that I had managed to read anything at all (with the exception of two comic books in January and February). Throw in work and life and well I truly didn't have a whole lot of time to read, so as I sit here now I am actually really proud of what I did read.
The first book that I finished was Jemima J by Jane Green and I rated it a 2/5 stars. I was definitely not impressed with this book, but I was glad that it got me over my slump. You can read my full review
here
.
I was really bummed out because I thought that this book had a lot of potential to be a great chick-lit, but it just fell flat for me.
The book follows the story of Jemima, a woman who is unhappy with her job, love life, and most of all her weight. It takes place in the 90s when the internet is starting to gain a lot of attention, and she ends up finding herself on chat site for singles. After falling for a guy on the website, she makes it a priority to lose her excess weight and become the woman that she always dreamed of.
Like I said, I think this book had lots of potential and could have gone a number of different ways. The direction that Jane Green took the story left me feeling lots of different feelings, and none of those feelings were happy and satisfied. Looking back at this book, I could have definitely rated it less than the two stars I gave it, but I think I let some of my complaints slide mainly because it did get me over my slump, so for that I thank it.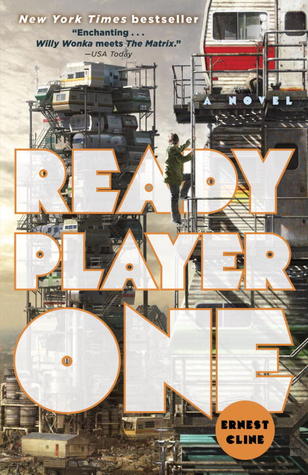 The next book I finished in March was Ready Player One by Ernest Cline. To simply put it, this book blew me away! I gave this one a solid 5/5 stars and you can read the full review of Ready Player One
here
. This book had been making the rounds on Booktube and Goodreads last year, and I had placed it on my TBR Wishlist where it sat for a good 6 months. Well, thankfully I am a member of Lootcrate (an awesome monthly subscription box for geeks and gamers alike) and I got this book in my February crate!
Ready Player One is a sci-fi dystopian novel that follows teen Wade Watts on his journey through the virtual world of the Oasis to find a hidden treasure that is worth a giant fortune. The story had me hooked instantly and was filled with so much geekery and 80s references that I found myself smiling through most of the book. Basically the only thing you need to take away from my opinion on this book is that you
need
to read it! Like right now!
The only question that I have regarding this book is why did it take me 5 years to realize that this book existed?! At least now I can look forward to Ernest Cline's second book Armada which is set to be released in July. I cannot wait to see what he has in store!!
The last book that I finished in March was Obsidian by Jennifer L. Armentrout. I absolutely adored this book and Daemon quickly became a book boyfriend of mine. I rated this one a 4.5/5 stars and you can read my full review of this book
here
. I was a JLA virgin going into this book, and I really went into this book blind.
I had seen this book and JLA being raved about all throughout Booktube, and decided to give it a shot when I saw that it was only .99 cents on Amazon. (I absolutely love the Amazon e-book deals!) Once I started reading Obsidian, well I couldn't put it down. I was staying up way too late and found myself thinking about the characters and the story throughout the day.
I am a big fan of paranormal romance novels, and this one is probably in my top 3 favorites that I've read. Obsidian follows Katy, a girl who is not too happy about moving to a small town of West Virginia. Once she arrives, she tries her best to be polite to her new neighbors, twins Daemon and Dee Black. Even though they are twins, they are very different from each other. Dee is very friendly and caring whereas Daemon is rude and egotistical. The more she hangs around either of the twins, she notices strange things that seem to happen until one day she finds out the truth - they are aliens.
This was the first paranormal romance that I've read that dealt with aliens, and I as I said before, I really enjoyed it. When I finished the book it left me in such a hangover, and even though I had started another book I found myself still thinking about Obsidian. I cannot wait to continue this series, and now I know why everyone raves about this series and JLA.
So those are the three books that I managed to get through this month. I am currently reading Throne of Glass by Sarah J. Maas and I'm hoping to get through it in the next few days. As I stated previously I am happy with the books that I did get through, and I'm looking forward to April because I have a good feeling that I will do even better.