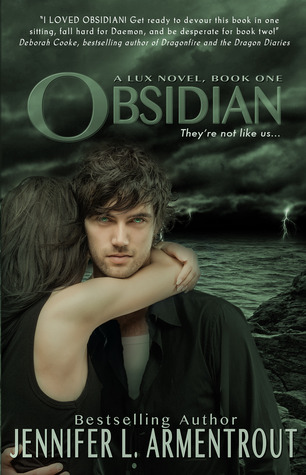 Title:
Obsidian
Author:
Jennifer L. Armentrout
Series:
Lux (#1)
Release Date:
May 8, 2012
Pages:
335
Genres:
Young Adult, Paranormal, Romance
Source:
Purchased
Starting over sucks.

When we moved to West Virginia right before my senior year, I'd pretty much resigned myself to thick accents, dodgy internet access, and a whole lot of boring... until I spotted my hot neighbor, with his looming height and eerie green eyes. Things were looking up.

And then he opened his mouth.

Daemon is infuriating. Arrogant. Stab-worthy. We do not get along. At all. But when a stranger attacks me and Daemon literally freezes time with a wave of his hand, well, something... unexpected happens.

The hot alien living next door marks me.

You heard me. Alien. Turns out Daemon and his sister have a galaxy of enemies wanting to steal their abilities, and Daemon's touch has me lit up like the Vegas Strip. The only way I'm getting out of this alive is by sticking close to Daemon until my alien mojo fades.

If I don't kill him first, that is.


**CONTAINS NO SPOILERS**
If you are an active member of Booktube then you have most definitely heard of Jennifer L. Armentrout and the Lux Series. Before I started watching Booktube, I had never heard of JLA or anything written by her. When I first saw this cover I thought it was going to be a super cheesy romance novel written by an indie author because, in my opinion, I hate her covers. To be honest, I totally judged the book and the entire series on the covers, and didn't really have any interest to read them. Well, one day I saw that Obsidian was only .99 cents on Amazon, and I thought "why not?" and well the rest is history.
To say that I was completely mistaken about my preconceptions about this book is an understatement. I became engrossed in the story and the world and fell in love with JLA's writing and the characters. I instantly developed a crush on Daemon and wanted to be friends with Dee.
Since I had no interest in the series, I went into Obsidian pretty much blind and had no idea what the story was about besides the obvious, which is that it's a paranormal romance. I didn't know what the Blacks were or what any of the back story was, and I have to say that I am happy that I didn't know any of that information. I allowed me to dive into the story further and enjoy it more, because I was so unsure about anything and everything.
So you're probably wondering why I gave this book a 4.5 if I absolutely loved it. Well, my answer is that every now and then it felt super cheesy and Katy annoyed me here and there. Regardless, this book was absolutely sensational and I cannot wait to continue on with the series. Obsidian left me in a serious book hangover, and I couldn't stop thinking about the story or the characters for days. This book quickly became one of my favorites, and will most definitely be in my list of my favorites at the end of the year.